Welcome to the Official Hair Website! New York City!
AQUARIUS 2008 Remake
Lyrics by James Rado & Gerome Ragni
Music by Galt MacDermot
Extended lyrics by James Rado
Musical Arrangement by MARTEEN, James Rado, & François Chauvette
Featured singers: Eric Haroun, Darius Haas & Jeni Fujita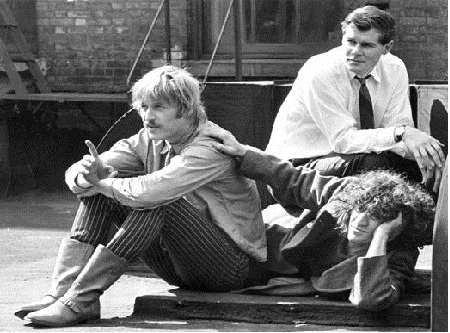 Photo by Dagmar, www.dagmarfoto.com
From left to right, James Rado, Galt MacDermot, Gerome Ragni.



To send us videos, pictures or reviews of your production for posting on this website please contact our webmaster via email.
hairthemusical2000@yahoo.com.
This website is dedicated to telling the truth about the origin and evolution of HAIR, the show that first came into public view in October 1967.
James Rado's new musical : Super Soldier.
Please join me for SUPERSOLDIER on Monday:
FundamentalTheaterProject.com
Fundamental Theatre Project in collaboration with Jim Rado and New York Theatre Barn
presents
A Reading of

SUPERSOLDIER - A New Musical

Book, Music, and Lyrics by Jim Rado (Co-Creator of HAIR)

Additional Book by Ted Rado


Directed by Joe Barros

Musical Direction, Orchestrations, and Arrangements by Marteen Andruet and Steve Margoshes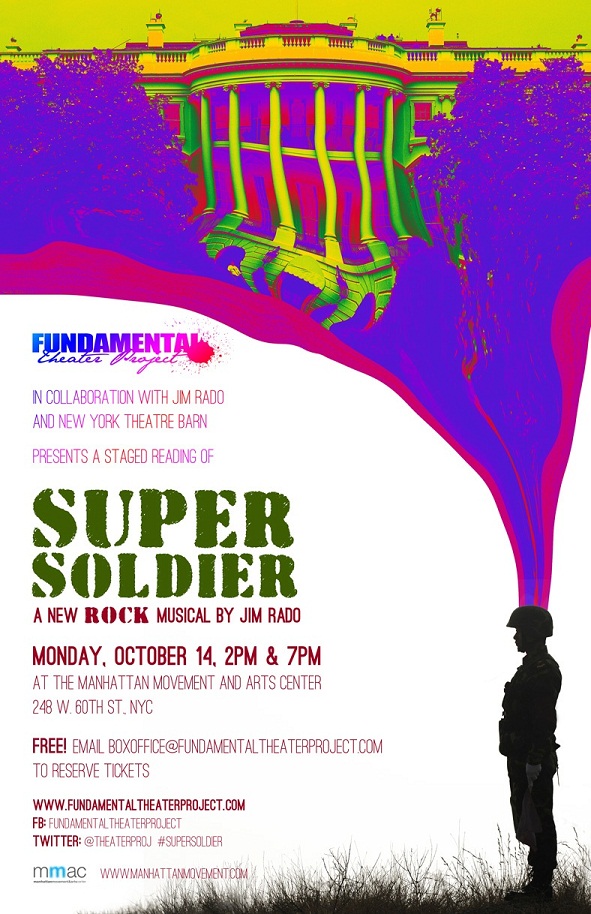 SUPERSOLDIER tells the story of Billy Trubble, a young soldier injured in battle, his spiritual ascension to another plane of existence, and his new found mission to confront the President of the United States. Featuring an eclectic musical score and a rich ensemble, this new rock musical is a kaleidoscopic exploration of the beauty in the world and the fragility of life as seen through all the colors of the Rainbow. SUPERSOLDIER is a heavily revised version of the 1972 musical RAINBOW, then regarded as the sequel to HAIR.

The cast will feature:
Todd Adamson, Anthony Alfaro, Debbie Andrews, Adam Barry, Anna Bergman, Amber Carson, Tessa Fairey, Anthony Fett, Anne Fraser Thomas, Gerianne Genga, Tyson Jennette (The Book of Mormon), Sena Lee, Paul Louis Lessard, T.J. Mannix (Radio City Christmas Spectacular), Jeremy Pasha, Katharine Pettit, Leah Roth, Talia Thiesfield (Goodspeed's LMNOP), David Tomczak, Xalvador Tin-Bradbury, Vishal Vaidya, Luis Villabon (Reefer Madness), John Wascavage, Chris Yonan, Noah Zachary (Goodspeed's Amazing Grace), and LaDonna Burns.


For reservations contact
fundamentaltheaterProject.com
Video of the month :

Ted Neeley in a 1969 New York/Los Angeles prodcution of Hair
---
Good Morning America Friday
[ June 24th, 2009 ]
Hair podcast with Jim

[ June 15th, 1009 ]
American Soldier
[ April 24th, 2009 ]
Broadway Tribe on Letterman
[ April 24th, 2009 ]
Time Out New York tribe pictures
[ March 12th, 2009 ]
more...